kotelnica-skitour-challenge-2020-en
KOTELNICA SKITOUR CHALLENGE 2020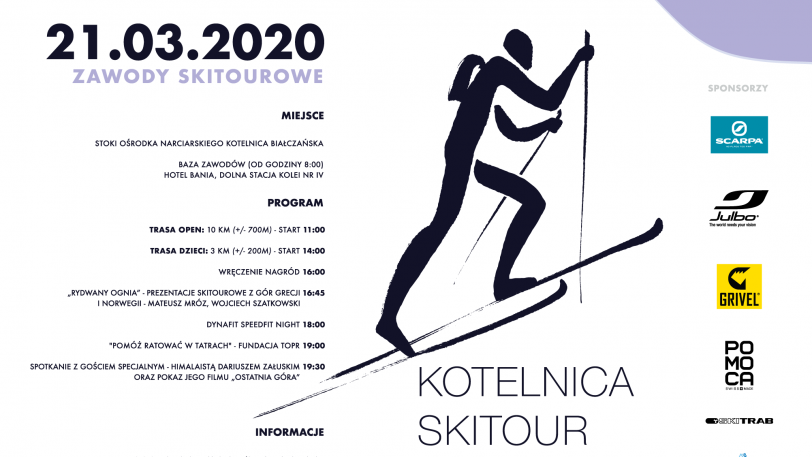 3 lata, 3 miesiące temu
SKI TOURING COMPETITIONS - KOTELNICA SKITOUR CHALLENGE 2020 . Date: 21/03/2020 (SATURDAY). PLACE: BASE OF THE COMPETITION - HOTEL BANIA, LOWER STATION OF THE SKI LIFT NO. IV, SLOPES OF THE KOTELNICA BIAŁCZAŃSKA SKI RESORT.
INFORMATION ABOUT THE COMPETITION:
ORGANIZER: JAKUB BRZOSKO VERTICAL
WWW.BIALKATATRZANSKA.PL/SKITOURCHALLENGE
Contact: 695 092 678,
MAIN PARTNERS: KOTELNICA BIAŁCZAŃSKA SKI STATION, HOTEL BANIA
PROGRAM
THE COMPETITION OFFICE IS OPEN FROM 8:00 AM
PRESENTATION OF THE OPEN ROUTE 10:30
OPEN ROUTE: 10 KM (+/- 700 M) - START 11:00
CHILDREN'S ROUTE: 3 KM (+/- 200 M) - START 14:00
THE AWARD CEREMONY 16:00
"CHARIOTS OF FIRE " - SKITOURING PRESENTATIONS FROM THE GREEK AND NORWEGIAN MOUNTAINS - MATEUSZ MRÓZ, WOJCIECH SZATKOWSKI 16:45
DYNAFIT SPEEDFIT NIGHT 18:00
"HELP TO RESCUE IN THE TATRAS" - THE TOPR FOUNDATION 19:00
MEETING WITH A SPECIAL GUEST - HIMALAYAN CLIMBER DARIUSZ ZAŁUSKI AND A PRESENTATION OF HIS MOVIE "LAST MOUNTAIN" 19:30
ALL DAY LONG:
COMPETITIONS FOR PUBLIC
DISCOUNT PRICES FOR POMOCA SKI SKINS
FREE DYNAFIT SKI TESTS AND SKI TOUR TRAINING WITH DYNAFIT TEAM
FREE GRIVEL, JULBO, SCARPA EQUIPMENT TESTS
REGISTRATION AND SIGNING UP <
Electronically: www.bgtmesport.pl/zawody/bieg/id/379
PLN 100 - entry fee applies to people who sign up and pay the entry fee by transfer to the Organizer's account by 19/03/2019 (Thursday) including the name and surname of the participant.
PLN 130 (EUR 30) - payment after 21/03/2019 or on the day of the event (the competition office).
Organizer's account number: 57 1090 2590 0000 0001 3267 5280
Starter pack: headband with the event logo from DYNAFIT, energy bar, warm meal, commemorative starting number, diploma, draw of prizes for competitors, joint photo of competition participants, insurance.
CONTACT DETAILS OF ORGANIZER:
tel: +48 695 092 678
RULES OF CLASSIFICATION
In the KOTELNICA SKITOUR CHALLENGE 2020, all competitors who took part in the competition are classified.
COMPETITION FORMULA
Individual competition, time measurement (chip in a starting number) start-finishing line, mass start.
Competitors are classified in 8 categories depending on age and gender.
OPEN: WOMEN, MEN (in this category, prestigious statues by sculptor and ski tourer Marcin Rząsa)
Short route (approx. 3 km route, 200 meters elevation, one ascent - one descent)
CHILDREN (born 2005 - 2010): Girls, Boys
Long route (approx. 10 km long, 700 meters of elevation)
CADET (born 2002 - 2004)
JUNIOR (1999 - 2001)
SENIOR (1975 - 1998)
VETERAN (1954 - 1974)
All competitors take part in the competition at their own risk, signing a relevant statement via the online form or form that will be available at the competition office.
Minors - start with permission signed by parents or legal guardians.
The form may be obtained at the competition office.
EQUIPMENT AND GEAR OF COMPETITORS
Compulsory:

1. Skis with bindings must allow heel movement during ascent.
2. Shoes must cover the ankle and have a vibram or similar sole.
3. A pair of poles for alpine or cross-country skiing.
4. A pair of ski skins (two pairs suggested - there will be 9 passes on the "long route")
5. Gloves
6. Helmet
7. Ski cap or headband
8. Backpack with the possibility to attach skis on walking sections.
Recommended:
9. Glasses
10. Rescue cloth (NRC foil)
PLANNED ROUTE
The length of the planned route is about 10 km through the slopes of Kotelnica Białczańska, Jankulakowski Wierch and Wysoki Wierch, the total height difference is about 700 m. 9 passes on the route. Two special sections: bends on the route no. 6, a wall with ropes before the finishing line. The organizers reserve the right to adapt the route to the snow conditions prevailing on the day of the competition.
Participation in the competition means acceptance of these regulations.