3rd TELEMARK COMPETITION OF THE SN SNT CLUB ON KOTELNICA BIAŁCZAŃSKA
3rd TELEMARK COMPETITION OF THE SN SNT CLUB ON KOTELNICA BIAŁCZAŃSKA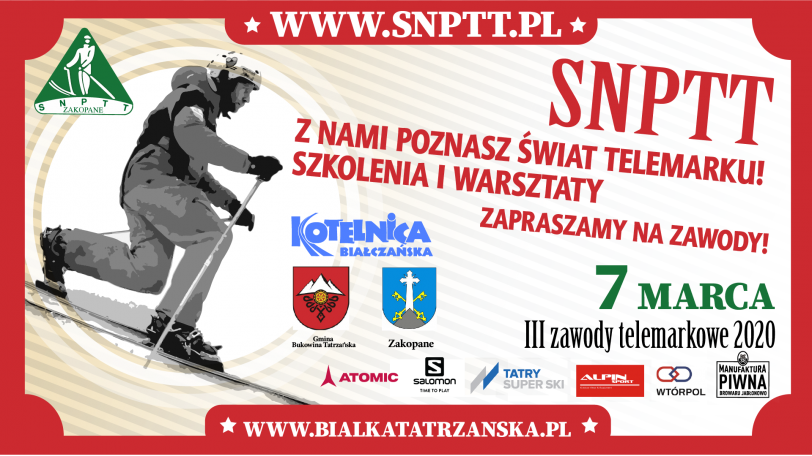 3 lata, 3 miesiące temu
We are pleased to inform you about the competition, being organized by the Telemark Section together with Kotelnica Białczańska once again in the upcoming ski season. Our club, full name of which is the Ski Section of the Polish Tatra Society Zakopane 1907, is the oldest ski association that was founded in 1907 and functions without interruption.
It is the only club of this kind in Poland! We, as the Telemark Section, have decided to organize an annual competition to promote this old skiing discipline. Our struggles are growing year by year. In the last competition we had competitors from Ukraine. The date of our competition coincides with the World Telemark Day, which lands on the first weekend of March, this year 7th March is the day. Therefore, today we want to invite telemark enthusiasts to Kotelnica Białczańska in Białka Tatrzańska. Kotelnica, is not only the place of competitions but also the seat of our Telemark Section, so under our watchful eye you can explore secrets of the art of skiing in this style, it is really worth it! This is true liberty and freedom of skiing. We guarantee good fun, competition in the Classic formula, that means there will be a ski jump on the route, a 360-degree loop, gates of course, and ascent to the finishing line. Each participant will receive a starter package with a surprise as part of the entry fee! Unfortunately, we cannot guarantee sunny weather :(
We remind you that the competition will take place on Saturday 07/03/2020, on the route 8A from Jankulakowski Wierch (as before), the competition will start at 10:00. Starting numbers will be distributed from 8:30 near the start line. More details on our website, including the account number, to which the registration fee of PLN 50 should be paid. Please send a receipt for the registration fee in the attachment.
www.snptt.pl and www.bialkatatrzanska.pl
Registrations can be sent to our section's e-mail address:
Additional information will be provided by the undersigned. See you soon!!!
Piotr Jasieński "Szuwarek" 603 77 08 97
Stanisław Styrczula 501 61 60 39