4th EkaMedica Goniacka in Białka Tatrzańska 2019
4th EkaMedica Goniacka in Białka Tatrzańska 2019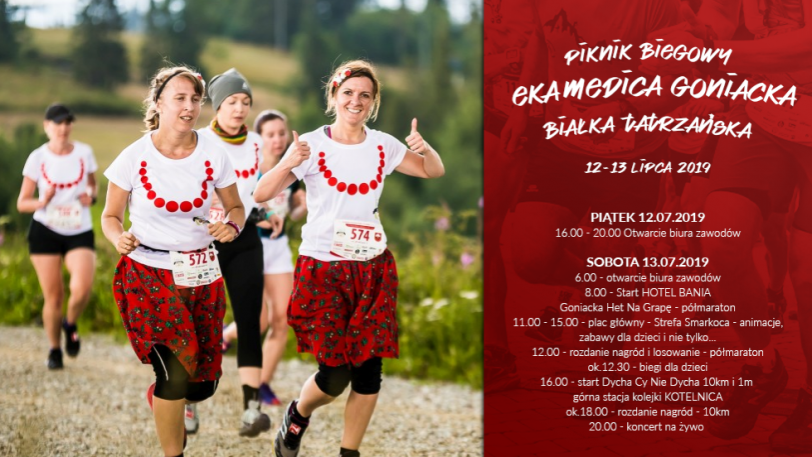 3 lata, 11 miesięcy temu
All lovers of running - both a little bit older as well as the youngest competitors are invited on 13 July 2019 to Białka Tatrzańska. This is already the 4th edition of the popular ''GONIACKA'' - running festival - organized on the slopes of the Kotelnica Ski Resort. Previous editions, well received by the runners themselves, herded at the start hundreds of persistent mountain runners. Most of them emphasized the unique character and regional atmosphere of the event. Highlander setting, original gifts, well-stocked feed zones for competitors - all this gets very positive opinions and comments of the participants.
We start on Saturday, 13 July, at 8.00 AM with the mountain half-marathon called "Hotel Bania Goniacka Het Na Grapę" (race to the Grapa Ski Station, sponsored by Hotel Bania) with the distance of 21 km. The route uses local gravel roads, forest paths and the resort ski runs. During a run we may enjoy the beautiful panorama of the Tatra Mountains and Podhale, we run through deep gorges, beautiful streams - and, as it used to happen in the previous editions, we may suddenly run in the middle of the herd of sheep, which is of course in the package price. We expect the first competitors at the finish line in about 1.45 h.
From 11.00 AM we start the "Crumb Snatchers' Zone" in the main ground - animations, runs for children and more - lots of great fun - no one will get bored. In addition, one may also test the local attraction that undoubtedly is the Monsterroller - off-road downhill scooter.
At 4.00 PM will begin the second of the races called "NUTREND Dycha Cy nie Dycha?" for 10 km and 1m, the resort chairlift transports competitors to the top of Kotelnica, where the START line is located (so that they do not get too tired of the running). The Start line is located at an altitude of about 900 m above the sea level. First, the route leads through the so-called Royal Way with a slight elevation, further we run into the resort cross-country skiing routes and at the end there is a fast and exhausting, about 1500 m long downhill run to the finish line. This fast but demanding route allows the best conestants to get results within the limit of 34 minutes!!!
After both races the competitors decorations will take place, then handing out attractive gifts, there will be also other contests with many prizes founded by our partners.
Please visit www.goniacka.pl for detailed information, event schedule and online registration of competitors. For the undecided, it is also possible to register at the organizer's office on the day of the competition.
Welcome!!!
With a highlanders' greeting, HEY!!!
THE GONIACKA TEAM