The "Mobilna Ścigacka" Race vol. V
The "Mobilna Ścigacka" Race vol. V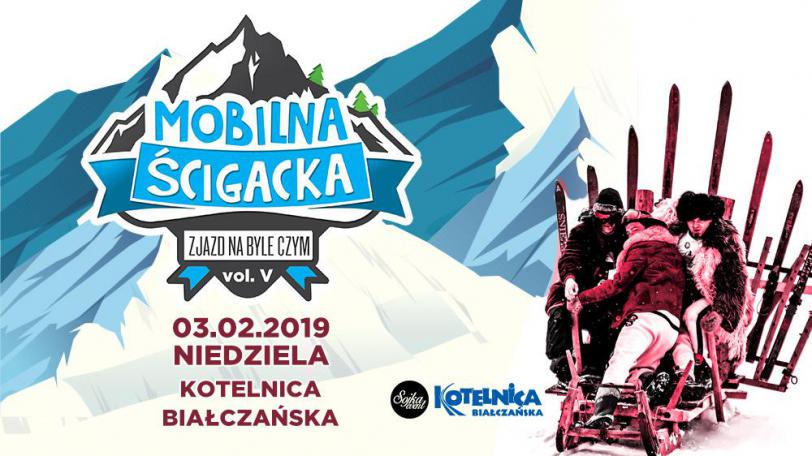 1 rok, 8 miesięcy temu
The "Mobilna Ścigacka" Race, is the largest event of this type in Poland. It will take place on the slopes of the Kotelnica Białczańska Ski Resort in Białka Tatrzańska, and will be organized by the Sojka Event. We focus on having fun, a nice time with a lot of humor and positive energy. Everyone can demonstrate his creativity in making a vehicle, which he will want to use to race down a slope of the most popular Ski Resort in Poland.
The idea of ​​our event is to give entertainment to people who, for various reasons, cannot enjoy the winter skiing or snowboarding. Previous editions have shown that the imagination of participants has no limits. Short videos showing how our event looks like are available on YouTube and on www.mobilnascigacka.pl. This will be already 4th edition and it will take place on 18 February in Białka Tatrzańska (Lesser Poland) in the Kotelnica Białczańska Ski Resort, between the lift no. IV and the Ski Resort Bania Ski & Fun.
We invite creative people, those who enjoy having good fun in the open air, as well as the whole families to take part in this offbeat winter event.
Plan of the event
10:30-12:00 Competition office, the opportunity to sign up to the participants list.
11:00 -12:00 Going up and presentation of Mobile Vehicles
12:30 The official start of the event
# Highlander category
# "Ceper" (tourist) competitions
# Junior category
# Audience Award category
16:00 End of downhill races,
16:30 Announcement of scores and distribution of prizes
17:00 After Party on the slope
20:00 End of the event
Registration of teams on www.mobilnascigacka.pl