Rafał Sypień was the best during the twelfth OSCYP!
Rafał Sypień was the best during the twelfth OSCYP!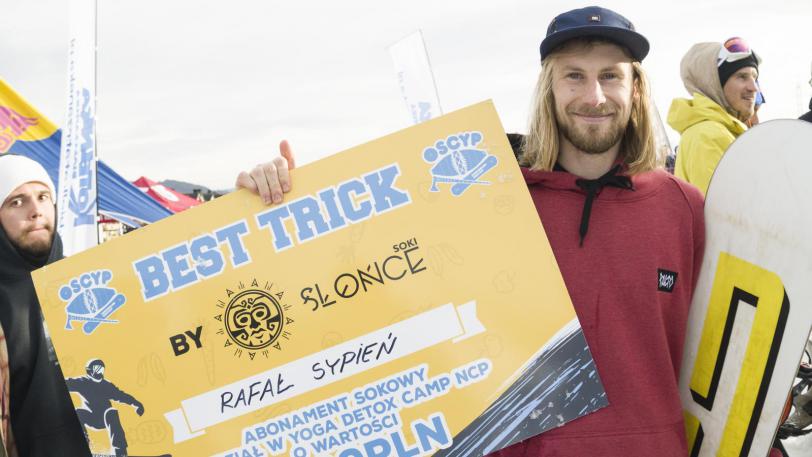 3 lata, 3 miesiące temu
Jib snowpark of the twelfth edition of the OSCYP Snowboard Contest was best used by Rafał Sypień, winning first place in snowboard competition. Wojtek Pawlusiak was right behind him, and Marek Rauba stood on the last step of the podium.
It was an extremely exciting day on the Kotelnica slope in Białka Tatrzańska. From early morning extreme athletes were preparing for the competition. With the music served by Red Bull and cold pressed juices from the Contest partner - Soki Słońce, OSCYP started for the twelfth time in history.
Waiting for the first tricks of Polish snowboarders, the audience took advantage of testing Burton Snowboards equipment, and also got acquainted with the new GoPro Hero8 Black camera model. There were also lots of additional attractions from the Channel Four of the Polish Radio. All these set the perfect basis for snowboard competition.
After an intense training session, a major competition started around noon. The classic jib tricks that used the full potential of the obstacles prepared by the Park Pirates started immediately. According to referees, the rider who presented his skills best was Rafał Sypień. Thanks to such tricks as Cab 180 to BS 540, the contender from Silesia stood on the top step of the podium. Wojtek Pawlusiak took the second place showing, among others, BS noseslide pretzel back on switch 50-50. The jury also awarded Marek Rauba for his unique style and such tricks as BS 180 50-50 Cab 360.
"This year, there has been created a very interesting setup for jibs, so all competitors could focus on one driving style" - Rafał Sypień commented after the award ceremony. "I am glad that I managed to win in this edition, as there were at least a few favourites." After the main competition, Soki Słońce Best Trick was organized, during which Rafał Sypień performed best. For his tricks he won the juice detox and the yoga session, with a total value of PLN 2,500.
This is how one more edition of OSCYP ended on the slope of Kotelnica in Białka Tatrzańska. Photos and other materials from this edition will be published on social media channels. We invite you to follow us!
FULL RESULTS OF THE OSCYP SNOWBOARD CONTEST 2020:
Rafał Sypień
Wojtek Pawlusiak
Marek Rauba
THE SŁOŃCE BEST TRICK
Facebook: http://www.facebook.com/oscypcontest
Instagram: @oscypcontest