Stay Safe While Skiing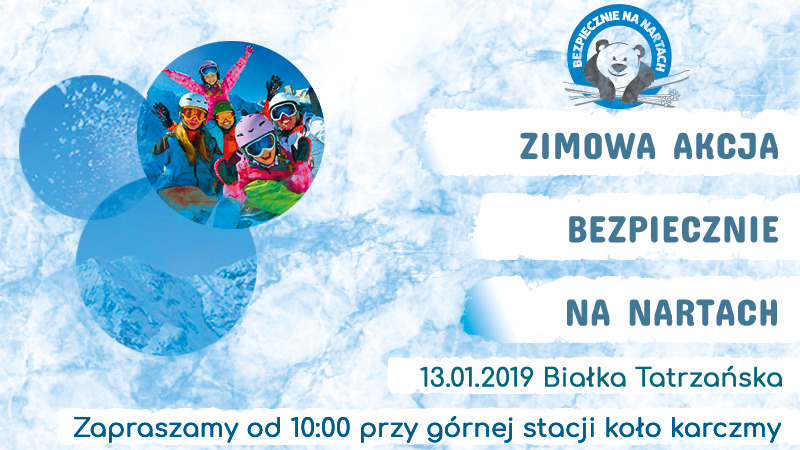 4 lata, 5 miesięcy temu
If we were to describe our action with proverbs, then: "as the twig is bent, so is the tree inclined" and "what you don't learn as a child, you can't learn as an adult." "Stay Safe While Skiing" is a campaign aimed at whole families, with a great emphasis on making the youngest skiers and snowboarders realise how important the safety rules on the slope are.
The fourth edition of the "Stay Safe While Skiing" campaign will be inaugurated on 13 January at Kotelnica Białczańska at the top station inn.
The attractions organised during each event remain unchanged. And here we are sure that everybody will find something for himself. Since it is not a secret that learning through play brings much better results than "boring lectures". That is why our actions are a big dose of fun with even more dose of education. For we teach how to give first aid and we show how the rescue action looks like - here, however, the spectator actively participates in the show. Thanks to cooperation with mountain rescuers, we show how the downhill run with the injured looks like. A qualified staff of the athletic school from Zakopane will show how to warm up our muscles well and prepare for the season.
All events being a part of the "Stay Safe While Skiing" campaign are also a big dose of fun: highlanders' "śpas" on snow (riding a hay sack, skill activities with Janosik), the opportunity to make a unique photo in front of a funny wall, quizzes and art classes with an animator.
Of course, that is not all. We have a very interesting and interactive surprise for everybody. However, we will not reveal information about all attractions. Just be with us! And maybe you will meet our ambassadors. So, see you on 13 January at Kotelnica Białczańska starting from 10.00 AM.
Together for safety
Tomasz Witek
The organizer of the Stay Safe While Skiing campaign

www.bezpiecznienanartach.pl
https://www.facebook.com/bezpiecznienanartach/